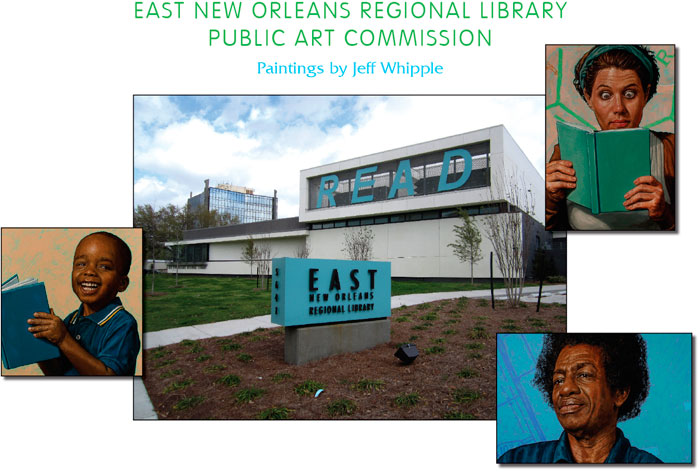 These 11 paintings were commissioned for a new library in New Orleans. The newly constructed library replaced one that was destroyed by the flooding when the levies broke after Hurricane Katrina. Jeff Whipple was awarded the $40,000 commission in a national call to artists.
The paintings were selected for the "2012 Year In Review" by the Public Art Network as one of the 50 most compelling public art projects in the USA.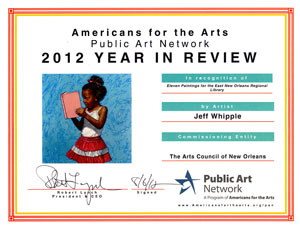 His idea was to use people from the library's community as models for paintings depicting the appreciation of reading. Whipple went to New Orleans and photographed dozens of library patrons who posed with books. He selected sixteen models for the eleven oil paintings that will hang throughout the 30,000 square foot library. Whipple was determined to make the paintings look like the models because library visitors will know and recognize them. He believes the portraits will provide a sense of community in an area that was severely damaged by the tragic flooding.
The neighborhood that the library serves is in the northeast part of New Orleans along the shore of Lake Pontchartrain. The new library is widely seen as a symbol of the rebirth of that community. The library dedication with the mayor of New Orleans was April 12, 2012.
CLICK HERE FOR A 15 PAGE BROCHURE WITH MORE INFO ABOUT THE PAINTINGS, DETAILED PHOTOS, ARTIST'S NOTES, AND VIEWS OF THE PAINTINGS IN THE LIBRARY.
6 MINUTE VIDEO ABOUT THE PROJECT
OTHER JEFF WHIPPLE PUBLIC ART COMMISSIONS