RECENT NEWS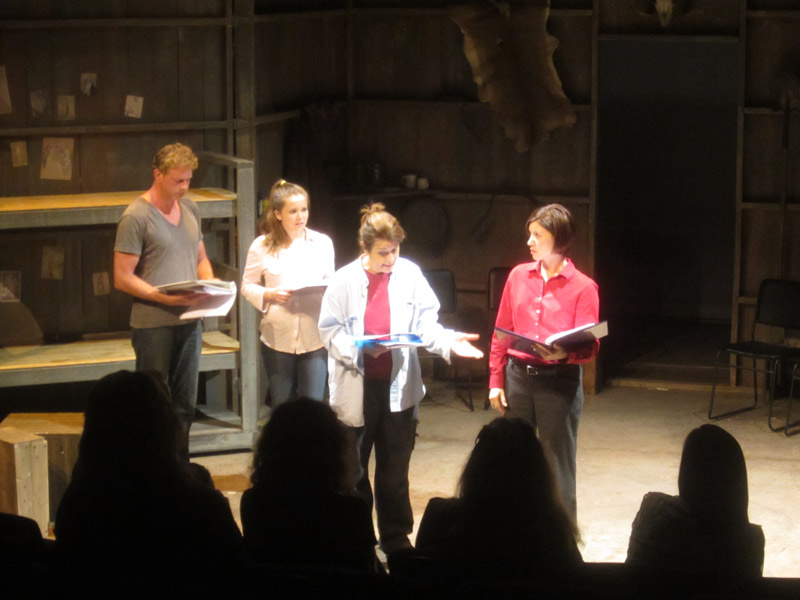 My newest play "Diorama" won the 2012 Breaking New Ground playwriting competition at Stageworks Theatre in Tampa, Florida. The award included a review by a Chicago Dramatist's dramaturg and wonderfully staged reading at Stageworks in May. Angela Bond directed a terrific cast. Audience response was very positive.
I've been plinking on several other plays and a few short art video scripts. Details will be posted later. And check out my Facebook artist page for more regularly recent news: https://www.facebook.com/pages/Jeff-Whipple/28519792526
One of the new plays that I'm working on is tentatively titled "Organized Air" or "Flashlight Key". It's about two couples that take a small boat to picnic on an uninhabited barrier island in Florida. When the wife of one couple takes a walk with the husband of the other, the remaining two quickly get into their obviously long-running sexual affair. While they are rather intimately engaged, a man in a tuxedo walks by. He takes a picture of them with his cell phone. They see him but can't disengage quickly enough and he walks away down the beach. They freak out because he's walking right toward their spouses. When the spouses return they are with the man in the tuxedo and it's clear that he hasn't divulged what he saw. Yet.
In April 2010, a skit I wrote and directed was featured in the Mickee Faust Club spring production of "Sex, Beer and Shakespeare" in Tallahassee. The skit was called "Interactive Shakespeare" and it featured a video I created that interacted with two on-stage actors. The video is a fake website that is clicked on various buttons and that cause the actors to speak and perform lines from from Shakespeare. It builds to a frenetic pace as the buttons click faster and the actors try to keep up. The troupe also performed the skit at a convention in Orlando in 2012.

The actors in "Interactive Shakespeare" were Donna Marie Nudd and Jimmers Micallef. I really enjoyed working with them. This is a video from a performance in 2010: INTERACTIVE SHAKESPEARE VIDEO
It's about 3 minutes long.

The fake website video here. It's 2 1/2 minutes long.
"Couch Potatoes of the 22nd Century" produced in Orlando, April 2009.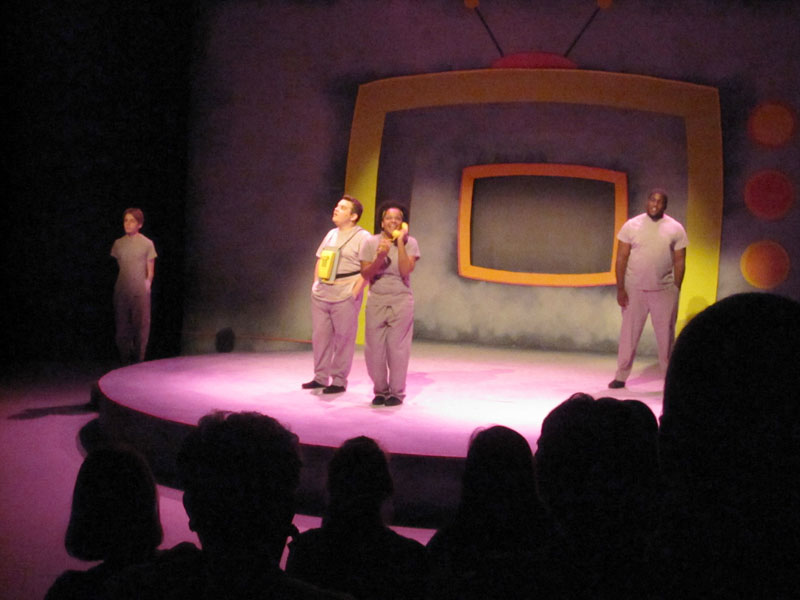 "Couch Potatoes of the 22nd Century" had capacity houses for the full run in April, 2009 at Valencia Community College in Orlando. The production starred nine actors and was directed by Julia Allardice Gagne. The play won the 2008-9 Florida Play Competition. It's the fourth time Jeff has won the award since 1993.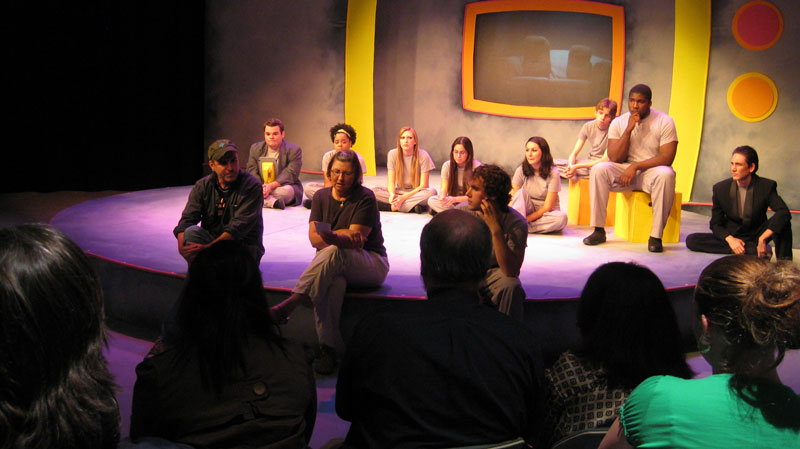 The talkback after the opening night performance. Jeff and director Julia Gagne along with the actors.
---
To see a video of the performance, CLICK HERE. The video is 1 hour, 15 minutes long.
---
OTHER OLDER NEWS....
"Canvases" was given an excellent reading at Stagewrights, the Tampa playwriting group in March 2009. The actors did a great job and the audience response was thoughtful and constructive. The script was rewritten and greatly improved.

The Prop Thtr in Chicago produced "Spokesperson" from May 22 to June 29, 2008. Directed by William Bullion. MORE INFO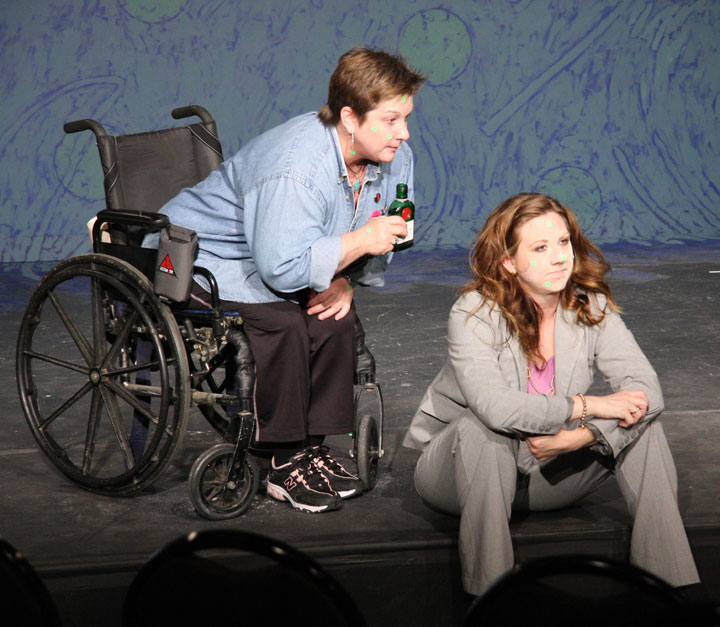 Diane Honeyman and Jenn Remke in SPOKESPERSON.
For more pictures from the Chicago show CLICK HERE.
---
LESS RECENT NEWS
"Canvases" was given a staged reading in November 2006, by Dog and Pony Productions at the Shimberg Playhouse in the Tampa Bay Performing Arts Center.
In March 2006, "Canvases" was given two staged readings at the Caldwell Theatre in Boca Raton. The 400-seat house was nearly sold out for both performances. Audience responses were generally favorable but there were several complaints about the foul language. (A typical response from older Florida audiences.)
Stageworks Theater in Tampa presented a staged reading of "The Goddess of the Teeming Masses of the Voiceless" in November 2005. It's a full length play that I just finished. MORE INFO
"The Cutting Edge of Amenities" was performed in February 2005. It was one of three short plays by Florida playwrights commissioned by LiveArts Penninsula. It was presented at Ruth Eckerd Hall in Clearwater, Florida. Click here for details.
"Spokesperson" won an Honorable Mention in an "Anti-Corruption" playwriting competition at the Castillo Theatre in NYC in 2004. There were nearly 200 entries from 6 nations.
The Florida Arts Council gave me an Honorable Mention for Playwriting for 2005. Not quite a fellowship but a nice recognition. I received a fellowship for Playwriting in 1996 and for Painting in 1982 and I got two fellowships for painting in Illinois in the 80s. I also received Honorable Mentions for Painting from Florida in 1990 and 1996.
To make their decision, the theater committee for the Florida Arts Council reviewed an early rough draft of "The Cutting Edge of Amenities" - see above.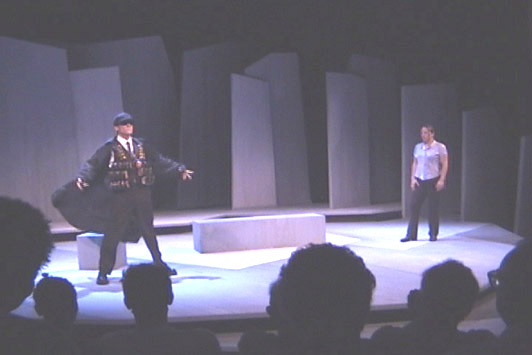 This photo is from the 2002 production of THE TERRORISM OF LOVE in Orlando